Architecture scholarships are one of the best ways to get a degree in Architecture without having to spend much or pay back the costs of getting your degree.  Architecture is a very financially demanding course and without any other financial aid, would mean a very difficult task for most average students.  So if you wish to cut down the costs of your education and to help ease your family's expenses on your education, you can try applying for scholarships which are being offered specifically for architecture students.  You can find a lot of such scholarships by searching for them on the internet or by asking your guidance counselor for possible colleges and universities which offer them.
CLICK HERE for the latest special deals on laptops for students.
Design & maths skills prime candidates
Scholarships for architecture can be found at different universities and colleges as well as in different private institutions.  There are also scholarship awards which are offered by government institutions is you can show sufficient proof of academic excellence as well as financial need.  As what has been stated earlier, the architecture course is a very demanding one and so most scholarships are aimed at those who can show a brilliant future in the said course.  Most institutions would require a particular talent or skill in design or mathematics in a particular candidate before he or she can be admitted to such a program.
Other classifications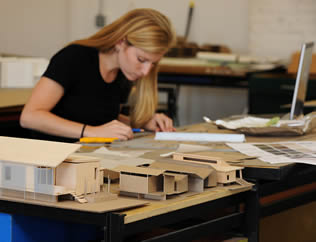 Just like other general classifications of awards, there are different categories or classifications of architecture scholarships.  There are those which are offered to children of members or a particular architectural group or organization, to women and minority groups, and to talented high school students who can demonstrate a given skill in the field of architecture.  Since design is one of the integral skills which are required in the course, you may as well be gifted in the said field if you wish to gain a scholarship.
CLICK HERE for the latest special deals on laptops for students.
Organization offering funding help
One of the foremost organizations which offer architecture scholarships is the American Architectural Foundation. They have joined with the Sir John Soane's Museum Foundation Travelling Fellowships in order to give architectural students to gain additional training in the field.  The cost of the scholarship is $5,000 and is open only for graduating architecture students.  The AAF Minority/Disadvantaged Scholarships are for graduating high school students who can show financial need and academic merit in order to win the said scholarship.  The reward costs $2,500 and is given to a number of qualified students each year.
Other opportunities
Aside from national scholarships, there are also architecture scholarships by state.  The Iowa State University College of Design offers several scholarships through the various contributions of their alumni.  There is the American Institute of Architects Scholarship program which is given to talented students in design.  The scholarship costs $500 and is given only to undergraduate students.  There is also the Henningson, Durham, and Richardson Awards which requires the submission of an essay as well as academic achievement.  The Syracuse University is another institution which provides architecture scholarships through their CIB Foundation, Inc. Scholarships.  It is given to outstanding students who have had an experience working in architecture related jobs. photo attribution: tulanesally